2021 Terry Graves Memorial Event
Terry's Treasures - K7FE/sk - Equipment Disposition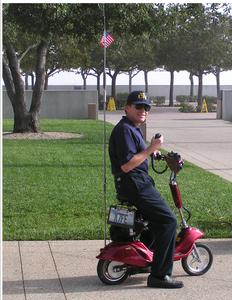 Terry (K7FE) was a much-loved and respected member of the Ventura County Ham Radio community for many years. His sudden passing in 2017 left a large hole in our community. He had amazing talent and knowledge, particularly of antennas, and had a gift for teaching about their design, construction, and use. He was also a major supporter of VHF radio locally. We are honored to present a mini-contest in support of this year's ARRL Field Day as a memorial to Terry and to the skills he nurtured in his fellow hams.
It's ARRL Field Day again, which means it's also time for the second Terry Graves Memorial (TGM) Event.
This is a special companion contest-within-a-contest (and just like Field Day, it's NOT really a contest!) that is meant to be fun for everyone, with every license, every budget, and every level of commitment to the ham radio hobby.
Open to all licensed amateurs in Ventura County


Address determined by address on file with FCC
Residents of adjacent communities accepted
Also open to anyone with a connection to the Ventura County ham community


At least one person in each QSO must be in Ventura County


Time, exchange and other rules all as for ARRL Field Day


Your call sign, first name, category (1D for most people), and district (Santa Barbara, SB, or sierra bravo).
Your log for the TGM is the same as your ARRL log, and participants are encouraged but not required to submit their log to ARRL as well.
There will be a Zoom session hosted by CVARC on Saturday June 19th to discuss rules and other questions; see the CVARC site for details


All categories apply regardless of transmitted power or power supply.


If it works on 2 meter simplex, it's eligible.


2M simplex, recommended FXs 146.520 and 146.550. Any FX allowed.


1 point per QSO, one QSO per call sign.


QSOs using a club call sign are not counted.


But don't worry about missing points if you operate at a club, see the next rule


25 bonus points for operating at a club site with their call sign, or logging for an operator at a club site.


See below for instructions about visiting club sites.
Participants will be operating under their own call signs. You can operate at a club site as well, but be sure you understand the rules when doing so. A good rule of thumb is to use the club call at their site, your own call off-site, and remember that once a call is used on a particular radio, that radio can only be used with that call. If you submit a log under your own call to the ARRL, include your club on the form. Your score will be added to your club's score!
There will be a Zoom meeting for the entire duration of Field Day, and for as long afterward as people fell like hanging around. It will not always have a moderator or host, since W6KME will be moving between club sites several times throughout the day. On Sunday at 6:00 to 7:00 PM, we're going to gather in this Zoom session to turn in scores and see how we all did.
Time: 11:00 am Saturday June 27th to 11:00 am Sunday June 28th
Sunday 6:00 pm to 7:00 pm for "awards meeting"
Meeting Name: "Ventura County Field Day 2021"
Direct Link: https://zoom.us/j/96215382161?pwd=LzBqb3ZzMkFPUU91ZFRFUDJ3cWltQT09
Meeting ID: 962 1538 2161
Passcode: FD2021
VISITING CLUB SITES
Restrictions due to COVID-19 are changing rapidly as well plan for this event, so the final word for each club's requirements should be obtained from that club. Try to keep in mind that restrictions are based on three factors-rules from local and State Governments, the clubs' internal policies, and the policies of the site hosting the event. In every case, contestants wishing to visit ANY club site are expected to respect the wishes of the operating club at that site. The restrictions listed may change by June 27th; the clubs themselves are the only authoritative source of information. All of the listed clubs are looking forward to visits from operators looking to take part. Check with the club directly before bringing any non-operating guests just to make sure everything goes smoothly on the day of the event.
VCARC
The Ventura County Amateur Radio Club
VCARC will be meeting at Oxnard College again this year, and is welcoming the public. Their restrictions are expected to be in line with the County and State restrictions in place on the day of the event. They are setting up in the grassy area next to Parking Lot B, near the Duck Pond. Masks and hard hats are being provided by the club (bringing your own mask is of course preferable-w6kme). A map is here
VCARS
The Ventura County Amateur Radio Society
VCARS is holding their Field Day at the Ronald Reagan Library for the 20th year in 2021. Not only is this a spectacular location, VCARS' members are famed for some of the rigs being used. It's really worth a visit! Since the Library functions as a federal government facility, COVID restrictions are entirely unrelated to what is going on in Ventura County. To attend, pre-registration is required and relatively simple. Send an email to Vern Potter and he will provide you with a short form to fill out.
CVARC
The Conejo Valley Amateur Radio Club
CVARC is in a new location this year, of Potrero Road in Hidden Valley. This huge site was provided by the Sherwood Development Company, right at the entrance to the Lake Sherwood Country Club. Their restrictions won't be formulated until after June 15th, and are expected to be in line with County and State guidelines. Here's some detailed information on finding the site